After the first week of the GBI Summer school, I have found myself fostering an ever-increasing interest in bioethics. The variety and quality of lecturers really brings the topic to life. As a newcomer to this field, I have learned quite a bit, both in terms of the generalities of bioethics and also the specifics. As someone who also began an internship with Global Bioethics Initiative last week, I can attest that I have learned a huge amount, specifically in regards to managing professional social media accounts. Ana, the Executive Director, is not afraid to award her interns important responsibilities. Thus, we are given the opportunity to rise to new challenges and learn. – Emily Bloch, B.A. Philosophy and Psychology Candidate, University of Durham, United Kingdom
The International Bioethics Summer School Program thus far has been an incredible learning experience and a privilege to learn from some of the best professionals in this discipline. As a Master of Bioethics candidate from Australia, the exposure of global bioethical issues and public policies from a different country has equipped me with the ability to better understand how issues around the world adversely affect individuals within and in-between populations. I am also currently interning for GBI for a duration of 5 months. My delegated tasks as an intern hitherto have revolved around the preparation of the Summer School, as well as other tasks within the office, and have enriched me with vital skills and knowledge of event management in a professional environment. – Rasita Vinay, Master of Bioethics Candidate, Monash University, Melbourne, Australia
The first week was an amazing start and amazing lectures. I specifically loved the lecture by Dr. de Melo-Martin about the Ethics of Reprogenetics. I absolutely love the discussions with all the students and hearing their stances. Very informative! I believe it is important to hear other people's stances on controversial topics and maybe question your own. The beauty of this course is that we get to meet different people with different backgrounds and discuss controversial topics. – Sarvenaz Ghattan, B.Sc. Integrated Sciences Candidate, University of British Columbia, Vancouver, British Columbia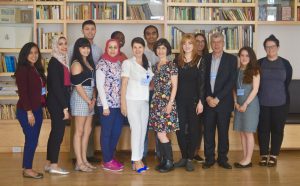 Pinning bioethics as the vital intersection between philosophy and medicine, the Global Bioethics Summer School provides an experience rich in knowledge and diverse in its sources. From the underground organ trade to "GMO babies", each topic is rife with controversy and pulsating with relevance to the practice of medicine as we know it today. The ethics professors, palliative care nurses, lawyers, and surgeons who comprise the panel of lecturers all bring their unique and meticulously-crafted views to the table, providing participants with a kaleidoscopic array of perspectives. By raising awareness about the most intimate and polarizing questions in medicine, this program educates our future physicians, lawyers, and ethicists to make a positive difference in the world through their practice. – Tea Binder, B.A. Philosophy and Biochemistry Candidate, Vassar College, Poughkeepsie, New York
Global Bioethics Initiative's 2018 Summer School is a distinguished program with elite academics, which includes philosophers, medical professionals and researchers. The program discussed the ethical implications of using modern medical technology in our lives and its effect on the future society. The lectures and discussions dealt with the ethics of contentious issues ranging from end-of-life care, to organ donation, to mental illness and addiction. It included a series of lectures and seminars by notable faculty, field trips, film screenings, and a mini conference prior to the graduation ceremony. In addition, Dr. Ana Lita, Executive Director and Co-founder of GBI, is a professional person to organize this program at such a high academic level. I hope that Dr. Lita will continue to organize such scientific events to raise awareness of bioethical issues and to serve humanity and its development. – Professor Abduljaleel K. Alwali, Ph.D., Department of Philosophy, UAE University
So far, the Global Bioethics Summer School has been a tremendously rewarding experience that has opened my eyes to the entire field of bioethics. Each lecture is different and given by a pioneer in the field, which offers a variety of unique perspectives for students to learn and discuss. This summer school also offers the opportunity to interact with the lecturers, who are all amazing people and are often at the front line of the issues we discuss in the program. Furthermore, the fellow summer school attendees come from all over the world with the common interest in learning more about bioethics. I am very grateful I have had the opportunity to learn about current bioethical issues as well as hear the input from a diverse group of people, which is an experience only the GBI summer school can provide. – Taryn Baker-Hewitt, B.A. Biology and Sociology Candidate, Vassar College, Poughkeepsie, New York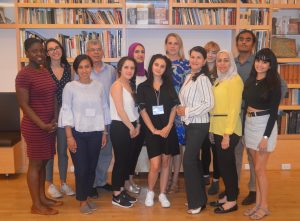 It has been a great pleasure to see the outcome of this year's International Bioethics Summer School. As an intern for Global Bioethics Initiative (GBI), I was heavily involved in the promotion and preparation of the summer program, and thus was particularly keen on participating. Through my interning experience, I gained many valuable skills to be employed in a professional enterprise, such as event management, promotion and outreach, proposal writing, updating and editing websites (WordPress), and many more. As an attendee of the summer school, I was introduced to a comprehensive series of lectures discussing various pressing issues in the field of bioethics. Those of particular interest to me were the topics of organ transplantation and genetically modified embryos. Being a biology major on the Pre-Med/Pre-PA track, these issues were highly relevant to my field of study and allowed me to gain a more holistic understanding of medicine. In addition to the wide-ranging lectures, the open debates and discussions allowed me to consider various perspectives on the bioethical issues raised, which I can then account for in making informed ethical decisions when practicing medicine in the future. – Leah Eskinder, B.A. Biology Candidate, Vassar College, Poughkeepsie, New York
My first week at the Global Bioethics Initiative has been nothing short of remarkable. As a philosophy major pursuing a medical career, I am particularly attuned to the humanistic underpinnings in the field of medicine. GBI has allowed me to further explore the ethical issues behind health-related matters of which I had not previously been privy. From reprogenetic technologies to organ transplantation to CRISPR and embryos, the ethical realm of medicine has become increasingly important with the rapid proliferation of technology. The speakers at the Initiative effectively captured the magnitude and intensity of the ethical issues behind matters such as these and encouraged quite engaging discussions. I am very much looking forward to returning for another unforgettable experience. – Elizabeth Shehata, B.A. Philosophy Candidate, Seton Hall University, New Jersey
My experience at the Global Bioethics Initiative has been nothing but world class. After entering the glass doors of the gorgeous Bohemian National Hall in the Upper East Side of Manhattan I was kindly directed to the third floor. Dr. Krimsky of Tufts University was discussing CRISPR and the future ethical implications of this revolutionary gene editing biotechnology.  We discussed lingering questions on the issue such as: rights of the unborn, unintentional DNA modifications, and the concern that if this technology becomes accepted globally in human embryos, will eugenics be the result? The group discussion could have continued for hours, but we had dinner plans with the United Nations Association. We made our way through the city to find a full soirée at the Hudson Terrace in Hell's Kitchen. Amongst the UNA members, the attendees included physicians, professors, and experts in the field. Our group laughed, danced, and had the opportunity to discuss our professional goals with one another.
Monday greeted us with Dr. Russell Woodruff from St. Bonaventure University of New York, with whom we discussed autonomy and dependency in aging, and later Dr. David Leven discussed the surprising statistics concerning end-of-life choices. We learned of stories about medical aid in dying that I never before knew existed.  We soon left the Bohemian Hall, but the day didn't end there. We continued our discussions while strolling in Central Park, which included singing under a rainy bridge and some wildlife interaction at a pond full of ducks and turtles! On Tuesday, the Director of Palliative Care Services at NYU discussed how the relief of suffering during the dying process is an ethical obligation to caregivers and that many underprivileged areas of the world do not have access to pain relieving medications even though they are quite inexpensive; this human suffering is unacceptable and avoidable. We continued our discussion on the horrors of organ harvesting and trade, and heard stories directly from victims in a documentary. We concluded Tuesday with the privilege of hearing directly from the UN Head of Military Affairs and the UN Human Rights Council regarding their global peacemaking efforts. I am very much looking forward to meeting the speakers in the days to come and partaking in our planned "field trips" including the New York Genome Center. – John Laakso, M.Sc. Bioethics Candidate, St. Thomas University, Miami Gardens, Florida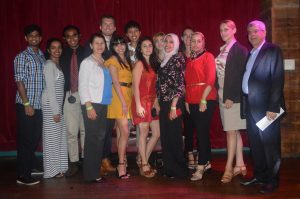 The driving force for me to attend the International Bioethics Summer School was my experience as a intern for the Palliative Care department at Bhakti-Vedanta Hospital and Radiation Oncology department at Stony Brook Medicine. The summer program helped with my preparation for medical school as I intend pursue a career in medicine. The summer school covered a variety of topics: the history of medical ethics/ bioethics, including nursing and healthcare reforms, reprogenetic technologies, and ethics of organ transplantation. Dr. Joseph Lowy, the Director of Palliative Care at NYU Langone Medical Centre, presented a lecture on End of Life Palliative Care and shared a riveting communication style that can be immediately adopted to solidify physician-patient relationship. In addition, I was interested in knowing the dynamics between a physician and his/her nurse colleague where Dr. Marie Claire-Roberts, Assistant Professor at Pace University College of Health Professions, elucidated the existing professional inequities that indirectly affect patient treatment.
GBI's Summer School educational program is an excellent opportunity to not only hear about current bioethical challenges from distinguished faculty, but also a healthy platform to exchange ideas with fellow participants who come from a range of professional pursuits from different regions across the globe. – Rahul Kulkarni, B.Sc. Biology Candidate, Stony Brook University, Stony Brook, New York
Field Trips: The Rogosin Institute, New York Genome Center
What's the definition of trading? Trade is the "giving of something in exchange for another" (Marriam Webster, 2018). We had the privilege to visit the Rogosin Institute in New York City and we got to chat with Dr. Smith about encouraging people to donate their kidneys. He believes that people who donate their kidney should be compensated for their time with money and should be given medical insurance for their believe this is a great idea and would for sure encourage people to donate their kidney and save lives.But let's not sugarcoat this and call it donation because this qualifies as trade in which some ,but not all people would give up their kidney for the financial benefit of it. One person giving a thing the don't need (one of their kidneys) in exchange for something they might need(money and insurance). – Sarvenaz Ghattan, B.Sc. Integrated Sciences Candidate, University of British Columbia, Vancouver, British Columbia